The difference between wireguard and openvpn,widevpn provides wireguard vpn services
Wireguard (hereinafter referred to as WG), as a representative of the new generation of VPNs, is probably not new to many students in the technical field. Like other VPN technologies, it can be used to build a secure channel between your home network and your company's network to access data and applications on your "intranet".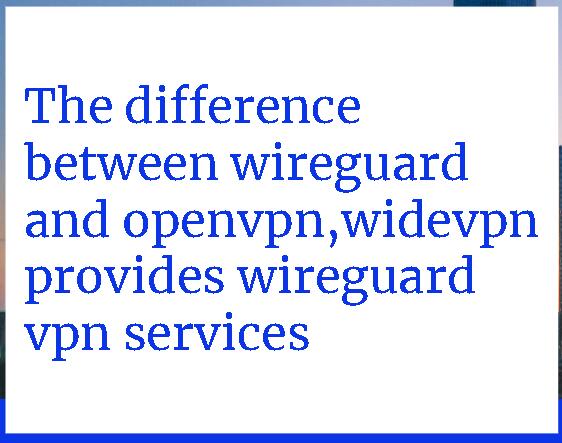 Before we get into the specifics of WG, let's abstract the general requirements of a VPN.
Security: Ensure that data between two private networks can be transmitted securely over an insecure network (such as the Internet)
authenticity: the visitor is a legitimate user and the visitor is accessing the correct network
Efficiency: Enabling VPN does not significantly slow down access to the network and establishes tunnels faster
Stealthiness: Third parties can't easily sniff out the presence of the gateway
accessibility: easy to configure, easy to turn on and off
We have Martin E Hellman, Bailey W Diffie and Ralph C. Merkle to thank for the secure transmission of data over insecure networks, and for their patent Cryptographic apparatus and method, which became widely known as DH algorithm for exchanging keys.
With the DH algorithm, the two ends of the network can negotiate a key to encrypt the data to be transmitted in an insecure network. After that, the data stream can use this key to do symmetric encryption efficiently.
With security solved, how to solve the problem of authentication at both ends of the network? The current general solutions to this problem are two.
Shared key (pre-shared key)
certificate (certificate)
For example, if we visit the website of China Merchants Bank, the browser verifies the certificate of China Merchants Bank to ensure that the network we want to access is indeed the network we want to access. And when a company's headquarters network and a branch network want to communicate, they can pre-configure each other's public keys and then verify each other through digital signatures, which is a variation of shared keys (pure shared keys do not satisfy forward security and should almost never be used in communication).
With the security and authenticity of identity issues solved, the most important problem with VPNs is solved. The VPN solutions we use today, both IPSec VPNs, which work at the network layer, and SSL/TLS/OpenVPN, which work at the session layer, do not go beyond the algorithms described earlier in terms of key exchange and authentication. Much of what makes them so complex is the handling of configuration, negotiation of encryption algorithms and various compatibility issues. The main character of this article, WG, is not too innovative from an algorithmic point of view, but produces a breathtaking simplicity by cleverly organizing requirements and implementing them in a different way.
To test WireGuard yourself, you will need to sign up with a VPN provider that supports the new protocol.
Thankfully, support is slowly becoming more widespread among the major VPN brands. You can try out a WireGuard VPN provider right away - widevpn,
widevpn provides users with five WireGuard keys. Only one key is required per device, so up to five devices can be connected in total.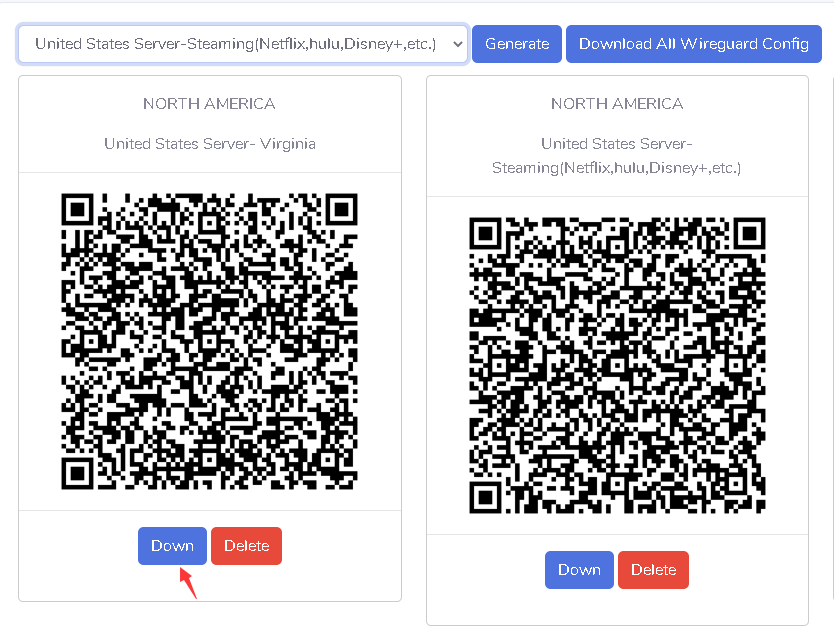 To connect to widevpn's WireGuard service, you need to use a terminal. If you do not already have a key (which can be checked by typing widevpn tunnel WireGuard Key Check), you will need to create a key by entering mullvad tunnel WireGuard Key Generation.
1 Month Plan
$4.99
---
Support iOS, Android, macOS, Windows
Enterprise-grade security
Double VPN
VPN and Wireguard protocols
2-Multi login on multiple devices
Unlimited Data Transfer
---
2 Years Plan
$19.99
---
Support iOS, Android, macOS, Windows
Enterprise-grade security
Double VPN
VPN and Wireguard protocols
2-Multi login on multiple devices
Unlimited Data Transfer
---
1 Year Plan
$14.99
---
Support iOS, Android, macOS, Windows
Enterprise-grade security
Double VPN
VPN and Wireguard protocols
2-Multi login on multiple devices
Unlimited Data Transfer
---