How to fix VPN not work for bet365 to Access from Abroad|Unblock Bet365 gamble online with a VPN
How to fix VPN not work for bet365 to Access from Abroad
bet365 is one of the largest online gambling sites in the world where you can bet on football, horse racing, tennis, golf, baseball, NFL or any other sport. However, in many countries around the world, online gambling is illegal or bet365 is not licensed and therefore cannot access and register in these countries.
If you want to register with bet365, you must live in the corresponding country and be a resident of this country to be legal, if you are not in this country, you will not be able to access bet365, for example, bet365 Spain's website, if you are in the United States or the United Kingdom or other countries, to access the Spanish bet365, then it will report an error, prompting the following screen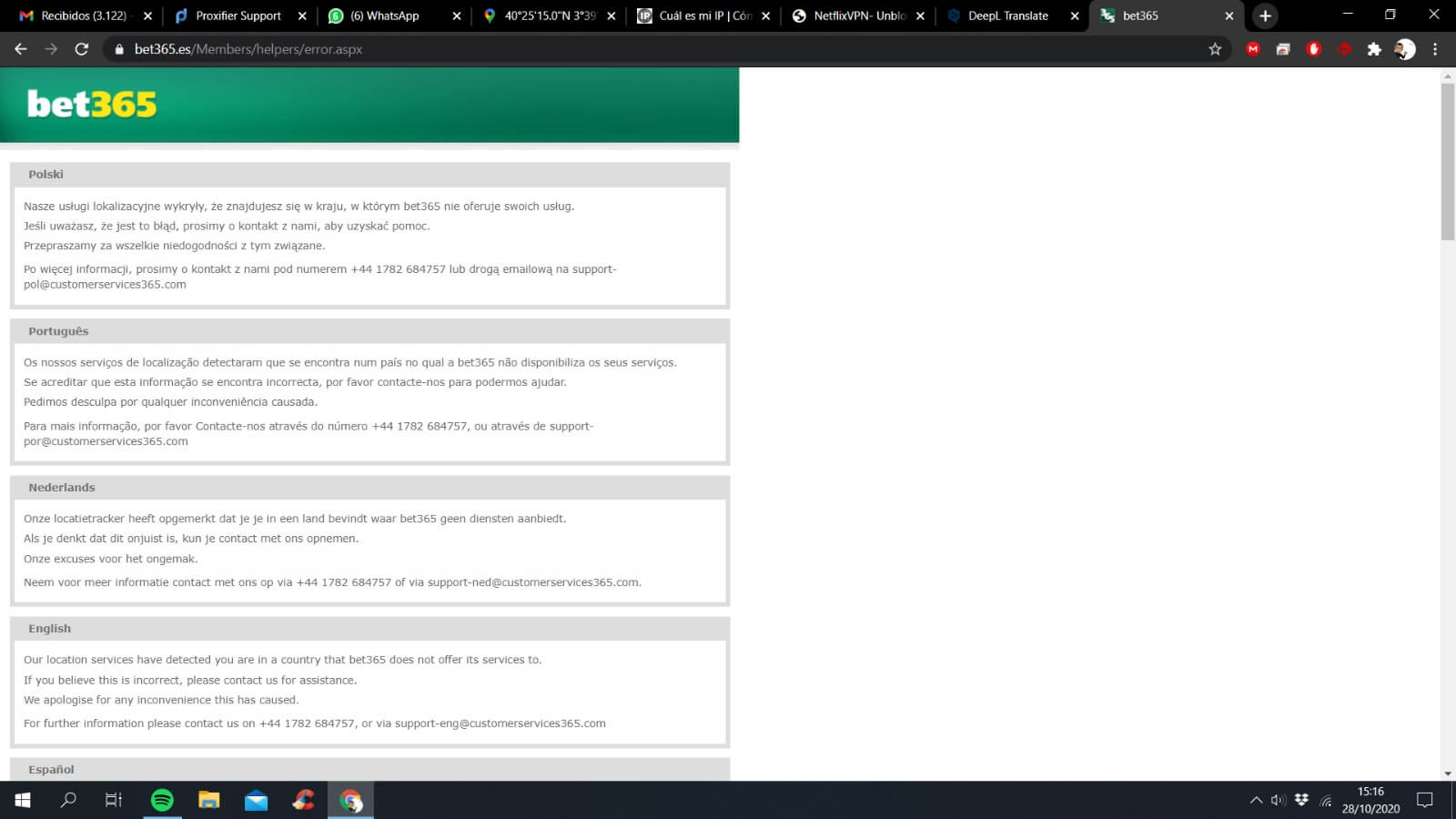 How to use VPN access bet365, why my vpn not work for bet365?
bet365 detects the location of every user who visits its site and blocks users in areas where bet365 is operating illegally. This seems unfair to users who are on holiday abroad.Without such geographical restrictions, bet365 would make it very easy for overseas users in countries/regions where gambling is illegal to register and place bets on its website. This could leave them open to legal disputes and potentially hefty fines from regulators.
There is a simple way to bypass regional restrictions and still be able to access and use your account while abroad, and that is by using a VPN.But the bet365 is not friendly to VPN, if you use a regular VPN service, because the IP is datacenter IP, so the VPN will be flagged or identified, even if you use a Spanish VPN in the United States, you still can not access the Spanish bet365, you will be prompted."our location services have detected you are in a country that bet365 does not offer its services to.If you believe this is incorrect, please contact us for assistance.we apologise for any inconvenlence this has caused."
The only effective way to bypass the bet365 detected VPN is to use a residential ip vpn, which will allow you to manage your bet365 account from abroad, have successful access and enjoy using bet365.
How can a residential VPN help me access Bet365?
What's so special about residential VPN? residential VPN uses a residential ip address, just like your home ISP dial-up number, which is unrecognizable, just like logging in to bet365 at home. widevpn uses a residential ip address, which is unrecognizable. VPN, you can use e.g. Germany, Spain, USA, UK etc. to access and manage your bet365 account.
WideVPN offers high-speed connectivity and robust privacy and security features, including the highest military-grade encryption of data. It also uses wireguard vpn, which supports a variety of OS(windows,mac,iphone,android) and is very easy to use.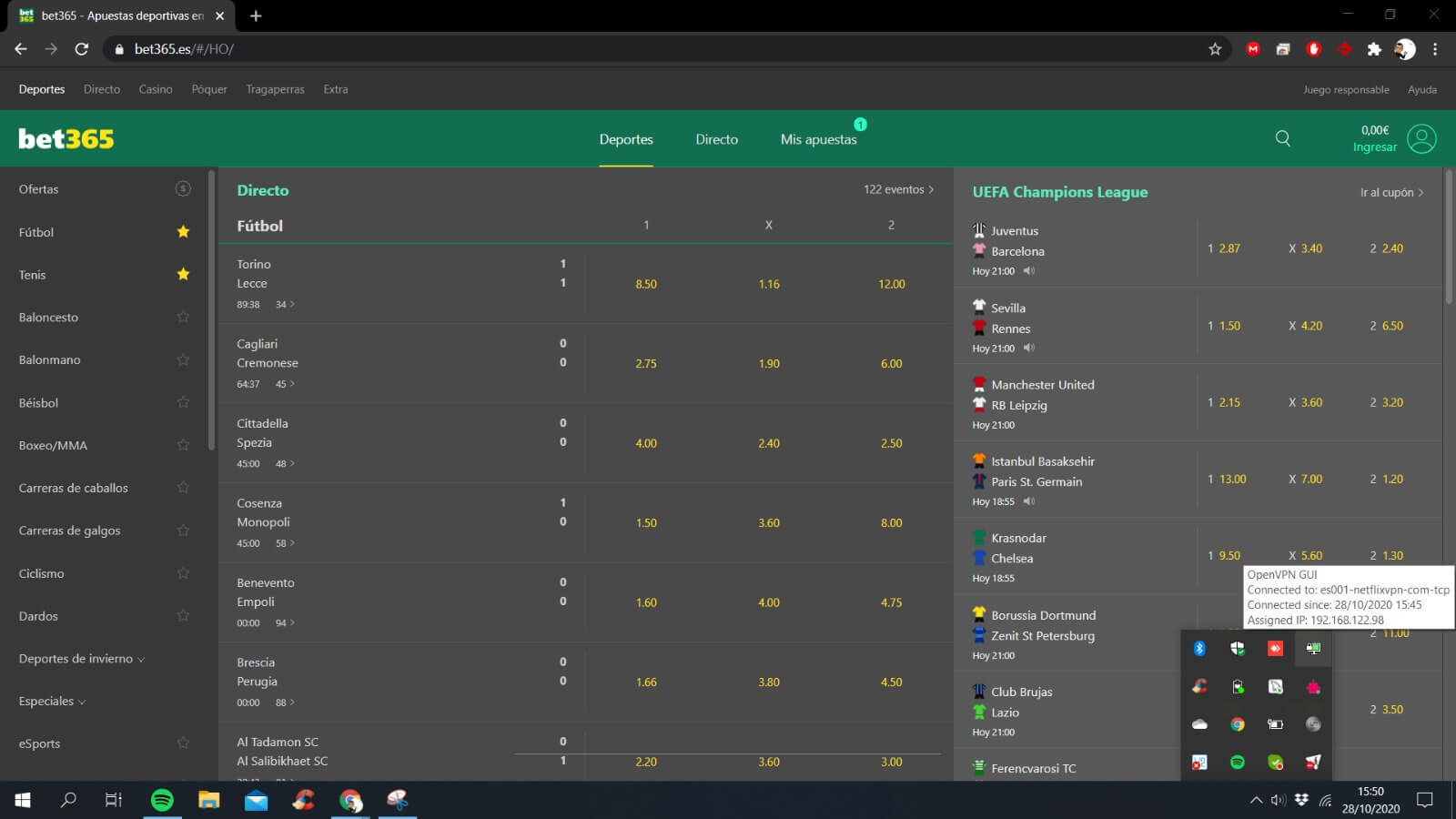 1 Month Plan
$4.99
---
Residential IP VPN
Unblock 200+ streaming sites
Unlimited Data Transfer
2 devices
---
2 Years Plan
$15.99
---
Residential IP VPN
Unblock 200+ streaming sites
Unlimited Data Transfer
2 devices
---
1 Year Plan
$9.99
---
Residential IP VPN
Unblock 200+ streaming sites
Unlimited Data Transfer
2 devices
---